Emotional Intelligence (EQ) is a trendy concept and no wonder why - it can help anyone in achieving success both in their personal and professional lives.
Employers are increasingly looking for candidates with interpersonal skills as they could be key to better adaptation and performance in the workplace.
Emotional Intelligence is being able to adapt to every social interaction using the right approach and also embracing a positive mindset, which helps to achieve success. This ability is crucial in order to have constructive conversations, (even difficult ones) and to lessen any negative outcomes that could come out of them. It also enables us to communicate effectively and respectfully. In other words, to be highly emotionally intelligent helps to take the best out of... yourself!
Our Open Course
This month we had our first open course on … (I'm sure you've guessed) Emotional Intelligence.
The trainer explored the key ingredients of the subject and focused on the link between EQ and Leadership. What is a good leader? Someone who communicates effectively, who motivates the team, who can cope with unexpected situations: Someone highly emotionally intelligent.
The first step that was covered in the open course was how to become more self-aware. We need to know our strengths and limitations to change our behaviour and break with our bad habits. Throughout the session, participants we were able to take tests to raise their self-awareness.
The trainer then debriefed the participants and explored great communication concepts and skills that they could apply not only at the work place but in any interaction.
Lunch and Learn Session
This open course was for us the opportunity to do our first Lunch and Learn session! As one person from our London office attended the training, he recapitulated key learning points from the session in a presentation. He concentrated on the 'Self-talk Cycle' and how thoughts directly impact our performances.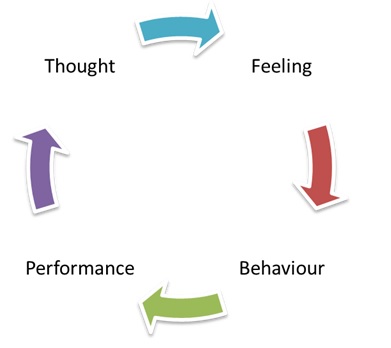 What is the Self-Talk Cycle? It is the cycle of the little voice in our head and the consequences of what it says to us. The concept explains that every thought provokes a feeling that triggers a behaviour, this seems logical. As logical as the fact that if when we are happy we perform better than when we are down. This scheme highlights the necessary of having a positive attitude to forge success. Our negative self-talk limits ourselves while positive self-talk enable us to surpass ourselves.